At the American Bread Company, we strive to create an unrivaled atmosphere, outstanding customer service, exceptional menu and talented people.
With 40 Panera Bread bakery-cafes in the tri-state area and growing, we offer teamwork, training and countless opportunities for a promising career! Visit our jobs website below or stop by one of our locations.
Click the button above for a listing of our current openings.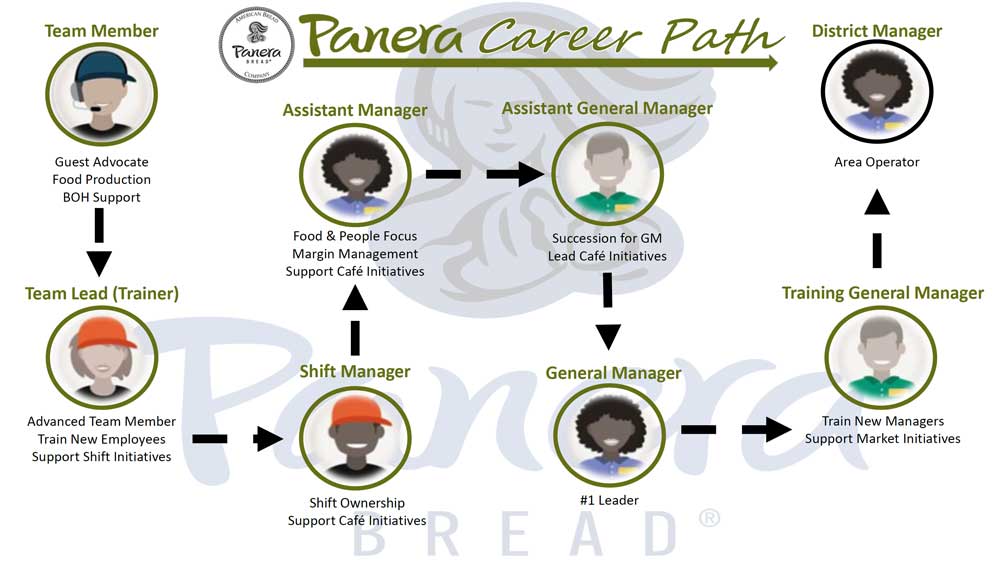 Opportunities for a promising Career
Associates
You have enthusiasm, energy and outstanding customer service skills. And we have the best place for you to show it off! We offer flexible scheduling, great wages, and a warm and welcoming team atmosphere. Visit any café and introduce yourself to any member of our management team.
Nighttime bakers
At home or on the job, you have a passion for great food and are known for making outstanding baked products. We want you to share that with Panera Bread and its customers. We offer you medical and dental, paid vacations, meals at work, paid training, 401k and opportunity for advancement.
Management
Drive, enthusiasm and outstanding leadership skills come naturally to you. That's what makes you a perfect fit for a management role in our company. Hourly and salaried managers are provided with the training, experience and opportunity to take your career to the next level! Along with company growth and room for advancement, our salaried managers enjoy medical and dental, 401k, paid vacations and opportunity for bonuses.

FAQs
Frequently Asked Questions
How do I apply?
Click here for a listing of our current openings. Choose the Career Search tab for a listing of our current openings. From this page you will have the ability to narrow your search based upon career category and location. To learn more about an opportunity, click the Apply button to view more details and follow the Apply prompts to submit your application.
Can I apply for more than one job?
Yes! We encourage you to apply for any positions in which you are interested and qualified for, in all café locations you have reliable access to transportation.
I've submitted my application, what's the next step?
Due to the high volume of resumes we receive; we are unable to personally respond to all applicants. If you meet the qualifications of the position, you will be contacted to discuss an interview.
Is there an opportunity for career advancement?
Yes! We are committed to the growth and development of our ABC team at all levels. We believe in recognizing and rewarding of their potential through career development. Check out our Careers Path tab for more information.
Who should I contact for fundraising or donation requests?
Please contact Maddy Gardner with your requests at mgardner@strangcorp.com.
Employment fAQs
Frequently Asked Questions