Benefits
Benefits vary by position and length of service and are subject to eligibility. On this page you will learn about: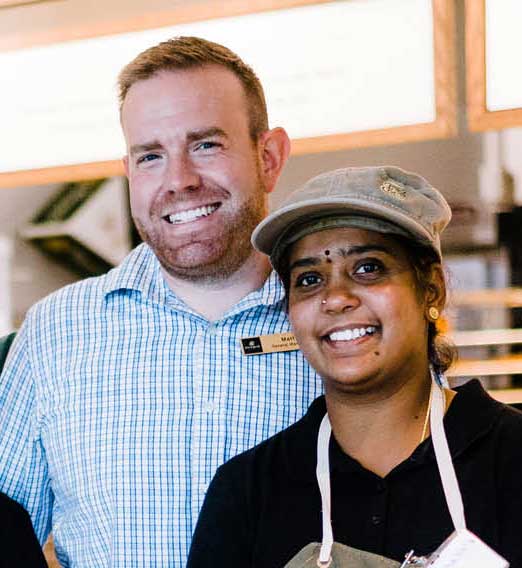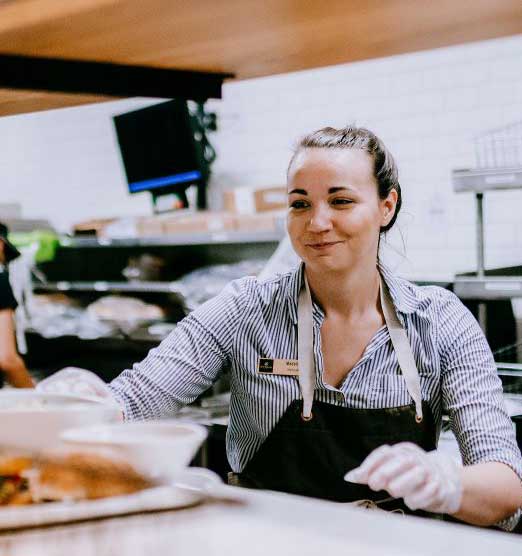 Compensation and Advancement
American Bread Company offers competitive wages, as well as the opportunity to increase earnings through the successful completion of training programs and the achievement of promotions.

Certain positions are eligible for performance-based bonuses based upon predetermined company goals.

We highly value the training and development of our team members:

Annual merit reviews provide the opportunity to formally evaluate performance, foster upward mobility and determine eligibility for wage increases.

Quarterly "heart checks" are conducted to ensure that team members' development is heading in the proper direction and that they are engaged and fulfilled in their role.

We continually make training investments – in both people and programs – which ensures that our team members are poised to successfully perform their duties and serve our customers.

Ultimately, we strive to promote from within our organization and encourage team members to seek to advance.

As we currently operate over 40 cafes in the Greater Philadelphia region, team members have some flexibility as to their work location relative to home and numerous opportunities for growth within the surrounding cafes.

As we continue to grow our organization, we are always seeking new team members to fill both full- and part-time (including seasonal) positions!
Healthcare and Well-Being
Medical – Our national network provider offers several plans, each with different deductibles and other criteria depending on the team members' healthcare requirements. Some plans also employ the use of a tax-advantaged Health Savings Account including a company matching contribution.
Dental & Vision –Like our Medical plans, these are available to qualifying team members and their dependents.
Disability – Company-paid short- and long-term plans for qualified team members which partially replace lost income if you are unable to work due to injury, illness, or other loss.
Life – Company-paid group plan along with additional voluntary coverage.
Paid Vacation – Varies based upon position and years of service.
Wellness Program – We support our team members' efforts to take charge of their own health journey, through personal assessments or preventative care, by providing financial incentives to those who do.
Employee Assistance Program – Complimentary services that assist you with your emotional health, family matters and personal development.
Health Advocacy Program – Click, chat, or speak with a professional who can help you make informed decisions regarding your benefit program, including finding a doctor/facility, managing appointments, etc.
Our providers' websites and mobile apps allow quick and easy access to program materials, network information and provider directories. At American Bread Company, we embrace technology and automation!
"Inspire and Celebrate" service awards – available to all employees who achieve certain career milestones ("Panaversaries"), beginning at one year of service! Includes both company apparel and financial awards.
"On the Spot" Awards – Team members win merchandise for their specific outstanding on-the-job achievements in alignment with our guiding principles and core values. Managers make the nominations and bestow the recognition both weekly and monthly.
Annual performance awards for managers, cafes, and regions – predicated on sales, profitability, safety, quality of service, cleanliness, accuracy, and leadership – for high-achievement and continual improvement.
Manager "benchmarking and best-practices" meetings which include dinners and outings such as sporting events or picnics.
A 401k plan with a company match is offered to qualifying team members.
All team members are entitled to a complimentary meal each shift.
"Bread Bashes" where we huddle team members to socialize, discuss new procedures or try a newly introduced food item!
"Spirit Days" to support local athletic teams by wearing branded apparel in our cafes on game days.
Charity/Volunteer Events which support our local communities, particularly those in underprivileged areas.
American Bread Associates in Knead Fund – Company-sponsored financial assistance program, funded via employee contributions, to support fellow coworkers during times of extreme hardship. Employees can learn more and apply for a grant here: https://www.charities.org/AmericanBreadCo
For our employees who are enrolled in our Health Insurance plan through Cigna:
Cigna Negotiated Rates Documentation
This link leads to the machine readable files that are made available in response to the federal Transparency in Coverage Rule and includes negotiated service rates and out-of-network allowed amounts between health plans and healthcare providers. The machine-readable files are formatted to allow researchers, regulators, and application developers to more easily access and analyze data.